---
Tari´s Offsprings
2010-12-10
Tari has sired three litters. ______________________________________________________________
His firstborn son was born on 10.9.2004 in the Faranda Bohemia kennel of Mrs. Dana Kupková in the Czech Republic. The dam of this single-puppy litter was a champion female Djanet Faranda. Djanet and Tari fell in love in an Azawakh summer camp… Djanet, an elderly experienced lady, was in silent heat which even veterinary doctors were unable to detect. However, Tari realised quite fast what was happening.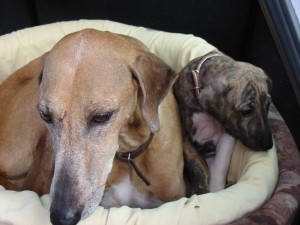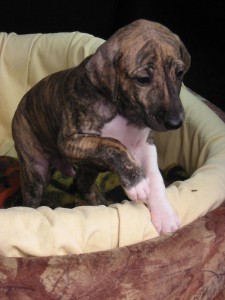 A brindle male, Hassi Touareg, was born out of this summer romance and I hope that in spite of the fact that he came to this world quite unplanned and unexpected, he has been making Dana and Olda Kupka happy. In 2006, he became Champion for Conformance and Performance of the Czech Republic, he does agility, and he follows the lure with a passion which he surely inherited also from his father.
_______________________________________________________________________
The second litter sired by Tari was a long-planned and awaited litter born in the Ledcameroch kennel of Miss Erika Tönder, who lived in Scotland at that time. She chose Tari as a sire for her International Champion Na´ema Nyala. On 15.7.2005, seven puppies were born: 6 males (5 brindle and 1 red) and one red female.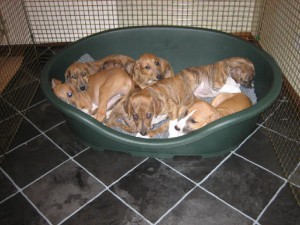 ________________________________________________________________
The third litter sired by Tari was born in his "home" kennel Tombouktou´s of MVDr. Gabriele Meissen, the dam being Taletmot Idiiyat es Sahel. Two puppies were born on 20th May 2007, a red-golden male V´Tamzak and a brindle female V´Akhami, that lives with us and makes us laugh and happy thanks to her inexhaustible energy, good humour and plenty of funny ideas.