---
Niebla
2011-08-02
I cannot remember if it was really like this in fact…
In the mid of May, thanks to my friends, Ibizan Hounds fans, I left for our third expedition to Spain to see Ibizans in their country of origin. All three expeditions would be topics for independent chapters of my stories, however my mind and heart are still full of memories of the last one. In that expedition, I, an ultimate dog lover, fell head over heels in love and I have not overcome this feeling so far.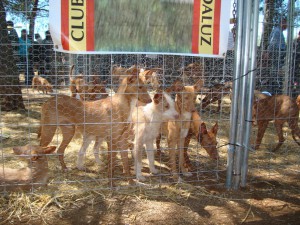 Years ago, during one of my many journeys to Spain, I bought a cynological magazine. In the magazine, a story was told by a hunter about a Podenco Andaluz bitch. Her name was Lucero, Blaze, according to the white blaze on her muzzle, adorning her short red coat. Lucero was a perfect huntress, however her master was not good to her. She escaped from him and began to live wild in the mountains, independent, daring, free. Hunters from a nearby village wanted to catch her; everybody wanted to have her for himself, the best hunting dog ever known in the region. But Lucero loved her freedom. After some time, she gave birth to a litter of beautiful puppies in a hole in the mountains. The hunter who was telling the story finally got one of her daughters. From one of the trips to the mountains, he brought home a little Podenco Andaluz girl, that, as well as her mother, became a legendary huntress and the hunter's inseparable loyal friend for many years.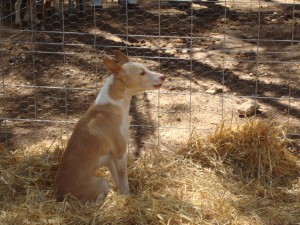 Lucero's story stayed for quite a time somewhere back in my mind. During one of my trips to the Spanish mountains, I saw a little dog wandering through rough arid countryside. It was a red big-eared beauty, trotting proudly around. While I was watching the beautiful dog, it occurred to me that if for any reason my dream to have an Azawakh would not come true, I would contact local hunters in order to find out if I could bring back home a Podenco Andaluz puppy, a living memory from Spain, the country I love so much. Luckily my Azawakh dream came true, and Lucero and her story became lost somewhere deep in my mind.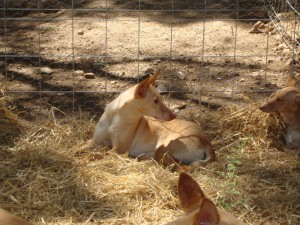 And then I joined the Podenco expedition… a weekend in Vilanova D´Alcolea. Breathtaking demonstrations of hunting with graceful Ibizans, show of results of breeding efforts of breeders of all types of Podencos from Spain. Incredible atmosphere, hundreds of dogs, thousands of people. Lots of things to watch, perceive and understand.
And all of a sudden… I am not sure, was it really like this?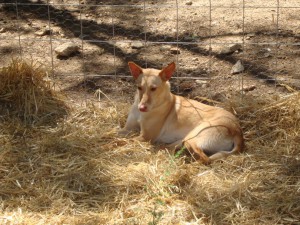 I was passing by a stand of a group which dealt with game keeping and game breeding. In the total mess of voices, hundreds of dogs and people around, I could suddenly feel somebody's penetrating look… an intense energy… silent calling… I turned my head to look directly into a pair of beautiful dog's eyes. A tiny snow-white Podenco Andaluz girl was lying on a chair inside the stand. Out of all the passers, she was observing me. I was frozen to the spot. I could not understand what was going on… it was such a strange intense feeling. I looked at the counter of the stand. There was a notice saying: A Podenco Andaluz bitch for sale. Age 5.5 months. I began to talk to the men in the stand. I asked them if I could pass to see the little white girl. I bent down and I touched her. A gentle, a bit shy girl lifted her head, touched me with her muzzle. We started talking, she and I, I was touching her little face with my fingertips. She licked my hand. At that moment, it happened. All of a sudden, I was in love. A beautiful white little creature named Niebla – Fog – wrapped me up in her tenderness; I got drowned in her profound dog soul, in her eyes. I was lost.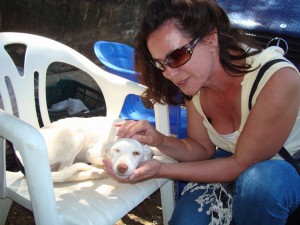 The men were obviously enjoying themselves, observing me, a crazy strange woman being enchanted by a little dog. When I wanted to take pictures of Niebla, they took the camera from my hands saying Niebla and I had to be pictured together. And they started talking… telling me to take her home, if I liked her so much. They dismissed my argument that my airline did not transport animals saying that they would send Niebla by another airline. My reason and emotions were struggling for some time. With thanks, I refused their offer. Nevertheless, Niebla´s breeder gave me a business card with his name and phone number. Just call me, if you change your mind, he told me.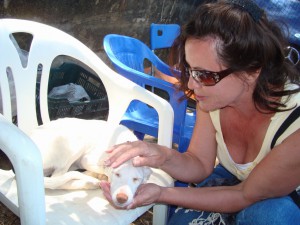 It was not easy to leave. While waiting for my flight home, I was pressing the little business card in my hands. I was sad. My reason was telling me that my decision was correct. The little Podenco girl did not fit in my busy working schedule which was ahead of me. It would not be fair to her to bring her home; it would not be fair even to my husband who would have to take care of our two Azawakhs and of Niebla without much help from me for some weeks.
Several weeks passed and I put a short comment under a picture of Niebla in Facebook… A real avalanche of reactions followed, my FB friends encouraging me to make a phone call to Spain. If Niebla were with a new owner already, it would be because it was meant to happen. And if not…
I dialled the number. Nobody answered. You see, I wrote in Facebook, you are torturing me like this and Niebla´s owner does not answer the phone. It is the destiny. I almost could not finish writing my message. My phone rang. I picked the receiver reluctantly. "Hi," a Spanish-speaking voice told, "I found a lost call with this number, so I am calling back… "
I explained shortly who I was. Niebla´s owner remembered me very well. I could hear in his voice he was enjoying himself. Surely he would not meet such a crazy woman every day. Niebla was still with him. He was willing to send her to me. It was up to me to decide. He would give her to me as a present, as nothing like that had ever happened to him… It was a bit difficult for him to understand why exactly I wanted Niebla so much… He told me he had other dogs, more perfect representatives of the breed, that I could choose a better dog… I am not sure whether he understood that it was something personal… something between her and me, an illogical intangible feeling, something not coming exactly from our material world. I thanked him for his kindness and said goodbye explaining that first of all I had to discuss this with my much more reasonable husband.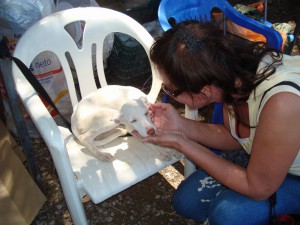 We discussed Niebla thoroughly at home, analysed the situation from all different angles. The reason won. Again. Niebla, my little gentle white Fog, is not here with me.
So sometimes I get lost in daydreams in our walks. In my mind, I can see my loyal fantastic Azawakh friend Akhami, running wild and free, closely followed by her little white friend… Crazy dog games in which even our aging gentleman Tari loves to join… Little white dog on my lap… Niebla.
Dreaming may be so nice… and sad. A bit.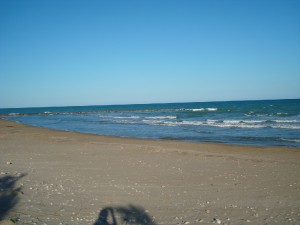 Que te vaya bien, Niebla, Nieblita, perrita blanca de mi alma. Te quedarás para siempre en mi corazón…